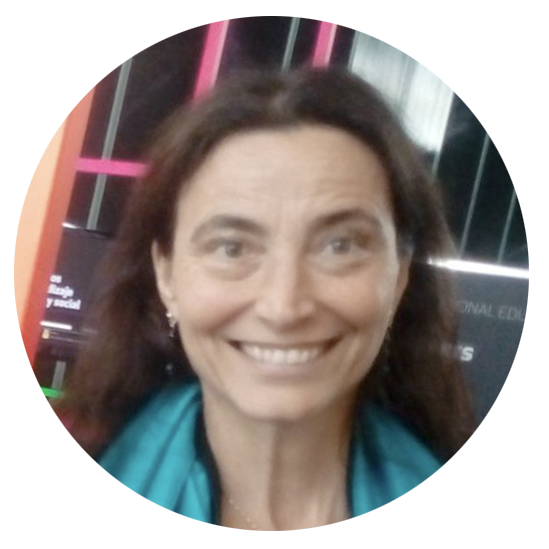 Alessandra Pecci
Profesora Agregada
Arqueóloga y Arqueómetra. Especialista en el estudio de los marcadores químicos de las actividades humanas, en particular en el análisis de los residuos absorbidos en la cerámica y en los suelos arqueológicos para entender los contenidos y la función de la cerámica, la alimentación y el uso del espacio. Ha enfocado su atención en la posibilidad de identificar las trazas químicas de productos animales y vegetales (sobre todo vino y aceite) en los materiales arqueológicos, gracias a proyectos etnoarqueológicos, arqueológicos y experimentales. Se interesa también en otros aspectos de las ciències aplicades a la arqueologia, como la prospección arqueològica o el el estudio de los materiales constructivos y de la argamasa en particular para ententes proveniencia de materias primas, tecnologies de fabricación y fases constructivas.
Ha trabajado en proyectos arqueológicos en el Mediterráneo y en México.
Es Maestra en Antropología, especialidad Arqueología de la UNAM (México) y Doctora en Arqueología Medieval en la Università di Siena (Italia) (2005) donde también ha sido professora asociada e investigadora contratada. Ha sido Marie Curie IE Fellow en el ERAAUB (2009-2011), Assegnista di Ricerca en la Università della Calabria (2012-2014), Investigadora Ramón y Cajal (2015-2020) y actualmente Profesora Agregada en la Universitat de Barcelona (2020-pres.).
PECCI A., 2021, Análisis de residuos químicos en materiales arqueológicos: marcadores de actividades antrópicas en el pasado, Pyrenae, 52, 1, 7-54.
PECCI A., REYNOLDS P., MILETO S., VARGAS GIRÓN J.M., BERNAL-CASASOLA D. 2021. Production and transport of goods in the Roman period: Residue analysis and wine derivatives in late Republican Baetican ovoid amphorae, Environmental Archaeology, 1-13. doi: 10.1080/14614103.2020.1867291).
PECCI, A.; BORGNA, E.; MILETO, S.; DALLA LONGA, E.; BOSI, G.; FLORENZANO, A.; MERCURI, A. M. ; CORAZZA, S.; MARCHESINI, M.; VIDALE, M. 2020, Wine consumption in Bronze Age Italy: combining organic residue analysis, botanical data and ceramic variability, Journal of Archaeological Science, 123, 105256-1-12.
PECCI A., MORAGAS, N., ORTIZ A., BARBA L., BLANCAS J., 2019, Proyecto Interdisciplinario para la localización de un centro de barrio en Teotihuacan (México), Informes y Trabajos: Excavaciones en el exterior, 19, 2019, 106-123.
PECCI A., MIRIELLO D., BARCA D., CRISCI G.M., DE LUCA R., ORTIZ A., MANZANILLA L., BLANCAS J., BARBA L., 2018, Identifying a technological style in the making of lime plasters at Teopancazco (Teotihuacan, México), Archaeological and Anthropological Sciences, 10, 2, 315-355.
2021-2024. Proyecto: Ánforas romanas y análisis de contenidos II. Producción y consumo de alimentos de la Baetica, la Laietania y el Oriente levantino (siglos I a.C. III d.C.), RACAMed II. Ministerio de Ciencia, Innovación y UniversidadesI+D+i (PID2020-113409GB-I00). IP: A. Pecci, P. Reynolds. (01/09/2021-31/08/2024), UB.
2020 – 2023 Proyecto: Living in the ruins of the city of Teotihuacán (Mexico). IP: N. Moragas, A. Pecci, Gerda Henkel Foundation. (19/11/2020-18/11/2023).
Producción y consumo de vino. Un viaje entre química y arqueología en el Mediterráneo occidental/ Producció i consum de vi. Un viatge entre química i arqueologia al Mediterrani Occidental, Fundación PALARQ Convocatoria: Aplicación de Metodologías y Técnicas de las Ciencias Experimentales/Analíticas en Arqueo-Paleontología (20/09/2019-20/09/2021) IP. A. Pecci.
2019 – 2022 Proyecto interdiscipinario para la identifcación de un barrio central en Teotihuacan (México), dal MINISTERIO DE EDUCACIÓN, CULTURA Y DEPORTE – MECD, "Ayudas para proyectos arqueológicos en el exterior" convocatoria 2019 (01/02/2019 – 28/02/2022, con prórrogas y 01/01/2018 – 25/09/2018). (IP: A. Pecci). Dirección científica: A.Pecci, N. Moragas, L. Barba, A. Ortiz.
2018-2022 Projecte Interdisciplinari d'estudi dels sectors N2E1 i N2E2 de Teotihuacan per a la localització del centre de barri del sector nord-est a San Francisco Mazapa. Proposta metodològica, Fundación PALARQ. IP: N. Moragas Segura (24/01/2019-31/12/2019). Dirección científica: A.Pecci, N. Moragas, L. Barba, A. Ortiz.