The Institute's mission is to promote and organise, from a multidisciplinary and diachronic perspective, research in the field of archaeology, maintaining and promoting its excellence, and promoting training in the field of action of the Institute. Among its strategic objectives is to consolidate and promote collaborations with other institutes of the UB, institutions in Catalonia, Spain, and internationally that share their concern for archaeology.
The Institute of Archaeology of the University of Barcelona was created as a multidisciplinary centre dedicated to advanced research. It brings together researchers from different faculties and departments of the UB and also plans to consolidate and promote collaborations with other institutions in Catalonia, Spain and internationally. 
The Research Project is structured around four main knowledge axes. In each of the priority axes, several main lines of research will be strengthened taking into account the research potential and traditions of the Institute's research staff, the infrastructures and equipment available to us, and the national and international territorial areas  where we carry out our research, which currently mainly include  the Iberian Peninsula, the Mediterranean, the Middle East and Central Asia, Africa, North Africa, Canada, Australia and America.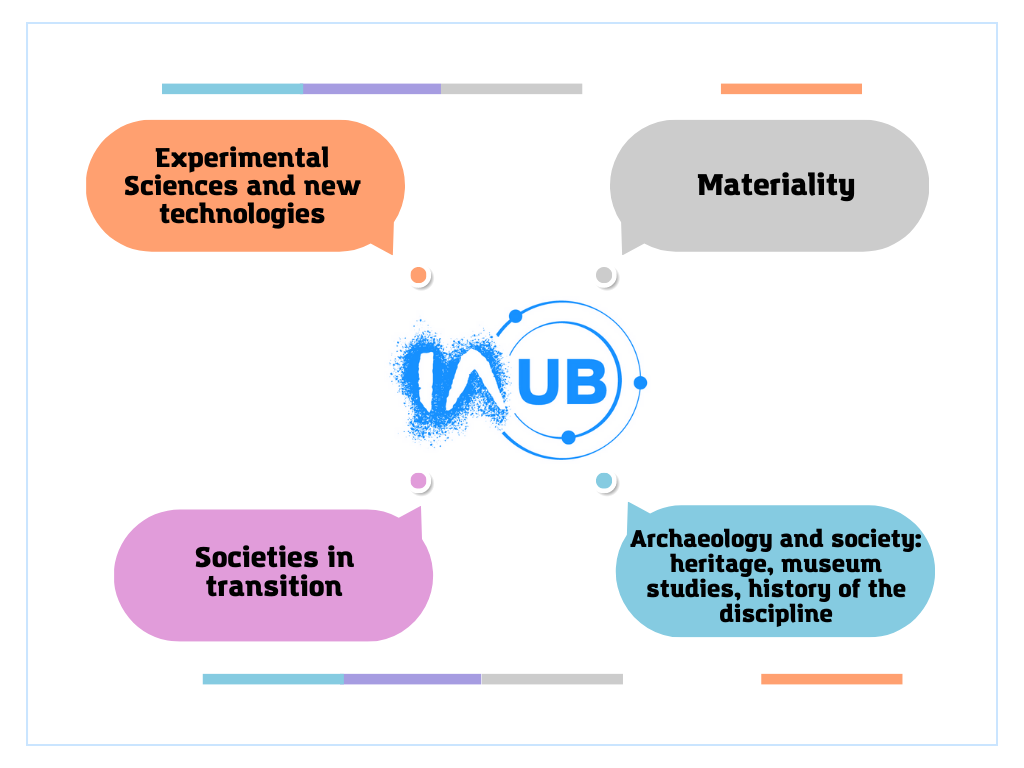 Experimental Sciences and new technologies
Bioarchaeology
Zooarchaeology
Geoarchaeology
Archaeometry
Physical Anthropology
Digital Technologies applied to Archaeology
Dating methods
Remote sensing and geophysical survey
Lithic industry
Metallurgy
Bone tools
Ceramics
Glass
Architecture
Costumes
etc.
Human origins
Prehistory and Protohistory of the Western Mediterranean
Prehistory and Protohistory of Near East
Romanització a la Mediterrània Occidental
Late Antiquity in the Western Mediterranean
Ancient Societies of Egipt and Central Asia
Ancient Societies of America
Medieval and Postmedieval archeology
Archaeology of the Contemporany World
Thematic archaeology: Historic Archaeology, Archaeology of Art, Archaeology of death, Ethnoarchaeology, Gender Archaeology, Epigraphy and Numismatics, Landscape Archaeology, Island Archaeology, Conflict Archaeology, Archaeoloacoustics
Archaeology and society: heritage, musem studies, and history of the discipline
Archaeological Heritage
World Heritage
Archaeological Tourism and Sostenibility
Heritage Didactics and Dissemination
Museum Studies
Conservation and Restoration
Public Archaeology
History of Archaeology and Biography
Networks in the formation of the discipline
Continue to advance in the reconstruction of the human past through research in an innovative, multidisciplinary and excellent archaeology.
Reinforce our leadership in archaeological research recently recognized by the QS World University Rankings by subjects.
Promote the collaboration between the different research groups and areas of research knowledge of the Institute of Archaeology.
Boost the strategic collaboration of the Institute of Archaeology of the UB with other entities of the international and national research and innovation systems, as well as with other research institutes of the UB. It is intended to promote the creation of a research network between Institutes of Archaeology to:

design international projects,
jointly supervise master and Ph.D. dissertations and research papers,
encourage the exchange of researchers between the various institutions,
organise symposia, workshops, etc.
promote international training and development in the field of Archaeology.

Enhance collaboration in the European Research Area through participation in European research projects and initiatives.
Attract highly qualified research staff.