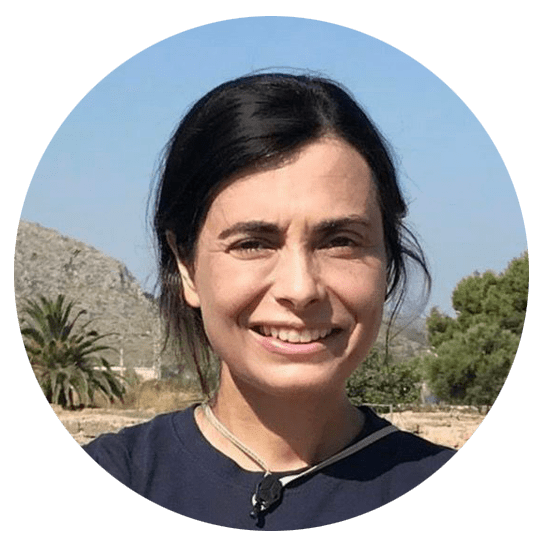 Catalina Mas Florit
Associate professor (Professora Agregada)
ORCID: orcid.org/0000-0001-6973-1985
ID Researcher: K-9624-2017
Scopus: 54683932300
Email: cmas@ub.edu
I am an archaeologist focusing on Roman and Late Antique Archaeology, especially in the western Mediterranean. My research examines the transformation of urban centers and rural landscapes with a particular interest in island systems.
I have a degree in History from the University of Barcelona (2002), graduate studies in Archaeology (2003), a Master's in Cartographic Production and GIS (2007), and a Ph.D. in Archaeology from the same university. My doctoral thesis focuses on the rural population of Mallorca during Late Antiquity. I perfected my training in digital archaeology as a visiting Ph.D. student in the Archaeological Computing Research Group at the University of Southampton, UK (2008). Later, I was visiting scholar at the University of Sassari (Italy) (2013) and a postdoctoral fellow at the Joukowsky Institute for Archaeology and Ancient World at Brown University (USA) (2016 to 2018).
I have participated in numerous excavations and archaeological surveys, among which I co-directed or directed excavations in the building at Ripoll street of Barcelona, excavations of the early Christian set of l'Illa del Rei (Mahon, Menorca), and excavations at the Roman villa at Sa Mesquida (Calvià, Mallorca). I am currently co-director of the excavations at the Roman city of Pollentia (Alcúdia, Mallorca) and the Roman villa of Llorís (Isona, Lleida).
Mas Florit, C., 2022, Intra and Inter-inland Connectivity in the Balearic Islands in Antiquity, in L. Gosner and Jeremy Hayne (eds.), Local Experiences of Connectivity and Mobility in the Ancient West-Central Mediterranean, Monographs in Mediterranean Archaeology, Sheffield (United Kingdom): Equinox, ISBN 9781000000000.
Mas Florit, C., 2021, La transformación del mundo rural durante la Antiguedad tardía en la isla de Mallorca (islas Baleares), Limina-Limites: archaeologies, histories, islands and borders in the Mediterranean (365-1556), Oxford: Archaeopress, ISBN 978-1-78969-850-3, ISBN978-1-78969-851-0 (e-Pdf), 122 p.
Mas Florit, C., Cau, M. Á., Meyer, C., Sala, R., Ortiz-Quintana, H., Rodríguez Simón, P., 2021, Geophysical Survey at the early Christian complex of Son Peretó (Mallorca, Balearic Islands, Spain), Archaeological Prospection, Volume28, Issue2: 201-219.
Mas Florit, C., Cau, M. Á., Alcaide, S., 2020, Buildings of Faith: Early Christianity in the countryside of the Balearics (Spain). Journal of Roman Archaeology 33: 271-290.
Mas Florit C., Cau M. Á., Goossens L., Meyer C., Sala R., Ortiz., H., 2018, Geophysical survey of two rural sites in Mallorca (Balearic Islands, Spain): unveiling Roman villae, Journal of Applied Geophysics 150: 101-117.
Arqueología y Arqueometría aplicadas al estudio de la cerámica y el poblamiento de la ciudad romana de Pollentia y su hinterland (Mallorca, Islas Baleares).2022-2025. PID2021-123223NB-I00. Ministerio de Ciéncia e Innovación. IP: M. Á. Cau Ontiveros; Catalina Mas Florit.
Excavaciones en la ciudad romana y tardoantigua de Pollentia (Alcúdia, Mallorca). 2021-2025. Consorci ciutat romana de Pol·lentia, Ministerio de Cultura y Deportes. IP: M. Á. Cau Ontiveros; Mª. E. Chávez Álvarez, Catalina Mas Florit.
El estudio de la transformación del mundo rural de Mallorca de época romana a la Edad Media mediante la aplicación de técnicas no invasivas. 2020-2022. Consell de Mallorca. IP: M. Á. Cau Ontiveros; Catalina Mas Florit.
Sinis Archaeological Project: Landscape Survey in West-Central Sardinia. 2019-2023. Loeb Classical Library Foundation Fellowship. I. P: L. Gosner; J. Nowlin.