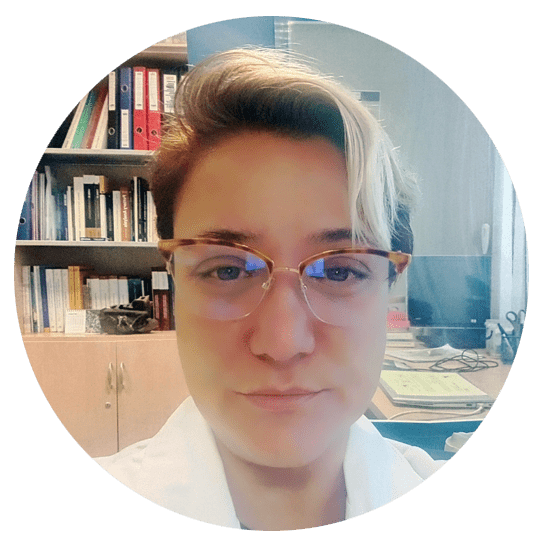 Els estudis de la doctora Evanthia Tsantini estan tant relacionats amb les Humanitats (Conservació, Belles Arts i Arqueologia) com amb les Ciències Naturals (Arqueometria, Etnoarqueometria, estudis tecnològics, etc.). Una especialització pre y postdoctoral en camps de l'arqueometria de la ceràmica, materials de construcció ceràmics, matèries primeres utilitzades per a la ceràmica, arquitectura de terra, maons de fang, morters d'argila, així com morters i pintures murals, assignatures que requereixen coneixements bàsics de química, física, geologia i ciència dels materials i estadística. La seva formació multidisciplinària es va veure reforçada per la seva experiència internacional (estades a diferents països) amb la seva participació en projectes nacionals i internacionals. Està familiaritzada amb una varietat de tècniques científiques: OM, FRX, DRX, SEM-EDX, NAA, tractament estadístic multivariant de dades composicionals propietats tèrmiques i mecàniques (resistència, força, duresa, tenacitat, conductivitat y eficàcia tèrmica). Especialista en anàlisi de matèries primes, argiles: granulometria, càlcul experimental dels límits d'Atterberg i contracció lineal. L'estudi de ceràmica no és l'única especialitat de la doctora Tsantini, ha realitzat estudis tecnològics sobre pintures murals romanes i bizantines i està especialitzada en la caracterització de pigments i morters. Es dedica també a la identificació d'origen del cinabri mitjançant l'anàlisi d'isòtops (ICP-MS). Igualment, ha participat activament en estudis d'etnoarqueologia i etnoarqueometria.
Archaeometric characterization of Late Antique pottery from the rural site
of Ses Paisses de Cala d'Hort (Eivissa, Balearic Islands, Spain). Authors (4): Ontiveros, Miguel Angel Cau; Tsantini, Evanthia … Ramon, Joan. Published: 2019 in Archaeological and Anthropological Sciences. DOI: 10.1007/S12520-017-0557-7. Web of Science accession number: WOS:000458608900015ot indexed in the Web ofScience
Sulfur Isotope Analysis to Examine the Provenance of Cinnabar Used in Wall Paintings in the Roman domus Avinyo (Barcelona). Authors (5): Tsantini, Evanthia; Minami, Takeshi … Melgarejo, Joan Carles. Published: Jan 2021 in Minerals. DOI: 10.3390/MIN11010006. Web of Science accession number: WOS:000610602200001.
Iberian amphorae beyond the mainland: imports in southwestern
Mallorca (Balearic Islands, Spain). Authors (4): Tsantini, Evanthia; Quintana, Carlos … Cau Ontiveros, Miguel Angel. Published: 2019 in Archaeological and Anthropological Sciences. DOI: 10.1007/S12520-018-0630-X. Web of Science accession number: WOS:000466856100011
The production of traditional building materials in Oristano (Sardinia,
Italy). Authors (4): Tsantini, Evanthia; Cau Ontiveros, Miguel Angel Cau i Randazzo, Luciana. Published: 2017 in Archaeological and Anthropological Sciences. DOI: 10.1007/S12520-016-0326-Z. Web of Science accession number: WOS:000411108400015
POTTERY PRODUCTION IN THE BUDDHIST COMMUNITIES IN CENTRAL. ASIA: THE KUSHAN-SASSANIAN POTTERY WORKSHOP OF KARA TEPE (TERMEZ, UZBEKISTAN)
Authors (5): Tsantini, E.; Martinez Ferreras, V., Gurt Esparaguerra, J.M. and Pidaev, S. Published: Feb 2016 in Archaeometry. DOI: 10.1111/ARCM.12161. Web of Science accession number: WOS:000372924900003