Roman boat that sank in Mediterranean 1,700 years ago gives up its treasures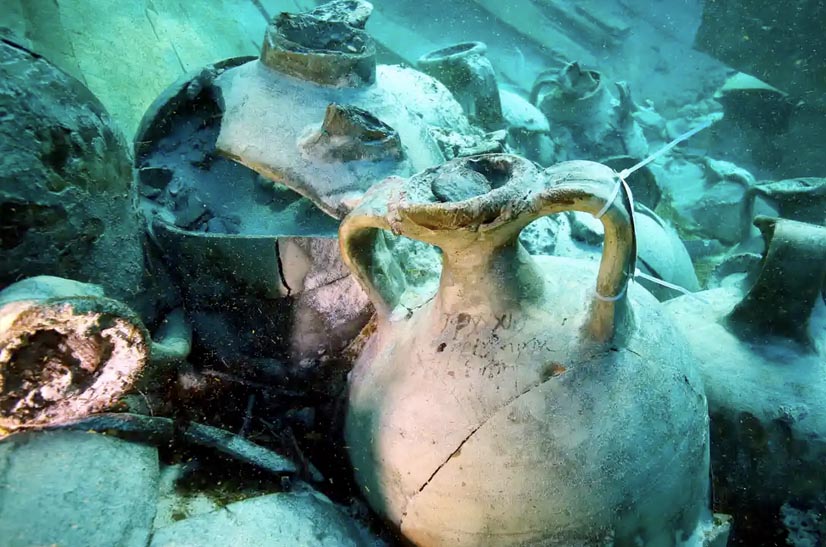 One squally day or stormy night about 1,700 years ago, a boat carrying hundreds of amphorae of wine, olives, oil and garum – the fermented fish sauce that so delighted the ancient palate – came to grief during a stopover in Mallorca.
The merchant vessel, probably at anchor in the Bay of Palma while en route from south-west Spain to Italy, was quickly swallowed by the waves and buried in the sands of the shallow seabed.
Until last month, its miraculously preserved treasures had lain untouched, despite sitting just 2 metres beneath the bellies of the countless tourists who swim off one of the busiest beaches in the Balearics.
Now, however, the boat – known as the Ses Fontanelles wreck – is giving up its archaeological, historical and gastronomic secrets. A recovery operation overseen by the island's governing body, the Consell de Mallorca, and involving experts from three Spanish universities in the Balearics, Barcelona and Cádiz, has retrieved about 300 amphorae as well as other objects that offer priceless insights into the Mediterranean of the fourth century AD and the crew's daily lives.
In addition to the clay jars – which still bear their painted inscriptions or tituli picti – archaeologists have found a leather shoe, a rope shoe, a cooking pot, an oil lamp and only the fourth Roman carpenter's drill recovered from the region.